Latisse™ For Lashes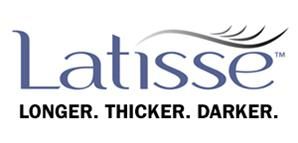 LATISSE is a prescription-only treatment that is applied to the base of the upper eyelashes. The treatment can be applied once per day, and the eyelashes are expected to grow within eight weeks; the lashes will continue to get longer and extend for up to 16 weeks after the initial treatment, and the effects can be maintained with continual application.
Allergan, the company that makes LATISSE, encourages people to use the drug each night on the upper eyelid margin using the accompanying applicator; the disposable applicator must be discarded after each use. The drug is not meant to be applied to the lower lash line, and only one application is necessary to accelerate eyelash growth. Contact lenses do need to be removed before applying LATISSE, and the solution must be fully dried before lenses are inserted into the eyes.
LATISSE is derived from the glaucoma eyedrop, Lumigan; patients who consistently used Lumigan experienced significant eyelash growth, so researchers found a way to turn the drug into a gel that can be used as a topical solution on the eye. LATISSE is applied to the top of the eyes like an eyeliner to reach the roots of the lashes with ease.
Potential Risks Associated with Latisse:
Darkening of the skin in the treated area
Itchiness
Redness
Swelling as a result of an allergic reaction
Conjunctival hyperemia
Triggering an inflammation response in those who have intraocular inflammation
Macular edema
Unexpected hair growth and significant eyelash changes
According to Allergan's product specification sheet, the active ingredient in LATISSE is bimatoprost. This is an active pharmaceutical ingredient derived from fatty acids; the compound is designed to bind to prostaglandin receptors and trigger regrowth of the hair follicle. Inactive ingredients include hydrochloric acid, sodium phosphate, dibasic, citric acid, sodium chloride and benzalkonium chloride. Anyone interested in using LATISSE will need to obtain a prescription from a physician and may be tested for allergies before using the product.

When patients stop using LATISSE, the eyelashes will likely return to their previous appearance. Any hyperpigmentation of the skin is expected to reverse after a few months.