Teamine®
#1 physician-recommended eye cream for dark circles.
Dark under-eye circles can be caused by genetics, age, allergies or just lack of sleep. Teamine® was formulated to improve the appearance of dark under-eye circles, regardless of their cause, and it effectively addresses puffiness, lack of elasticity, and fine lines and wrinkles in the delicate area surrounding the eyes.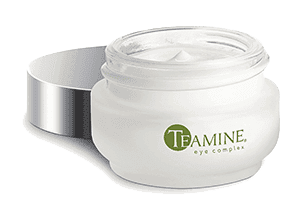 Teamine® is a concentrated cream, so a very small amount is needed, the effects are immediately visible, the results are long-lasting when used for as little as 4 to 8 weeks, and it is suitable for all skin types.
The Science Behind Teamine®
The scientifically advanced technology in Teamine® provides three main benefits:
Visibly diminishes dark under-eye circles. Teamine® brightens and smooths the appearance of skin. It helps skin look firmer and less transparent, so discoloration and broken capillaries are less visible.
Reduces the appearance of puffiness. A blend of Aloe and Green Tea Extract calms and soothes the under eye area for a more well rested appearance.
Smooths the look of fines lines and wrinkles. The individual anti-aging peptide in Teamine has been shown to reduce the surface area of deep wrinkles by up to 42%.
For over two decades, Revision Skincare has provided dermatologists, plastic surgeons and medical spas with clinically-proven, high-performing skincare products. Using only premium quality ingredients, the Revision Skincare collection was formulated to provide targeted solutions for enhancing skin's appearance and reducing signs of aging.