Dr. O'Donoghue's Resume
J MORGAN O'DONOGHUE, MD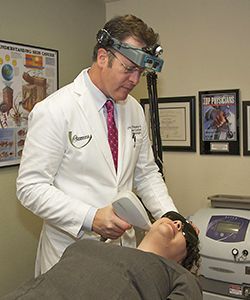 Current Section Chief of Dermatology for the SMH Dept of Medicine Residency Program
Past President of the Florida Society of Dermatologic Surgeons
EDUCATION
Graduate - Georgetown University Graduate School, Washington, DC
-Dept of Physiology Masters Degree Prog., 1990-1991
Medical School - Georgetown University, Washington, DC
-Doctor of Medicine Degree, 1991-1996
Internship - Tulane University, New Orleans, Louisiana
-Internal Medicine Internship, 1996-1997
Residency - Georgetown University/ Washington Hospital Center, Washington, DC
-Dermatology Residency, 1997-2000
Private Practice-Sarasota Dermatology, Sarasota, Florida, 2000-Present
BOARD CERTIFICATION
Board Certified by the American Board of Dermatology
PROFESSSIONAL ASSOCIATIONS
Past Treasurer, Past Vice President, and currently President of the Florida Society of Dermatologic Surgeons
Delegate of Florida Medical Association 2014-2016
American Academy of Dermatology Fellow
Florida Society of Dermatologic Surgeons Fellow
Member of the American Medical Association
Member of the Sarasota County Dermatology Association
PRESENTATIONS/LECTURES
"Erosive Lichen Planus" - Presented at Microscopic Symposia at
March 1999 AAD Mtg, New Orleans, La.
Presenter at Amer. Soc. of Dermpath. Mtg Nov 1999, LaJolla, Ca.
Lectures presented at Washington Hospital Center 1997-200:
Epidermal lipids, Photobiology, Amyloidosis, Laser therapy,
Occupational Dermatoses, Nail disorders and Genodermatoses.
Skin Cancer: The Whole Story - Plymouth Harbor /Sarasota Bay Club
PUBLICATIONS:
- Erosive lichen planus with an unusual plasma cell infiltrate masquerading as secondary syphilis
- Bilateral Subcutaneous Island Pedicle Flap for Lower Extremity Surgical Defects - Cosmetic Dermatology October 2008 Volume 21 No.10
- The use of serial skin biopsies to determine the efficacy of IV steroids in the treatment of toxic epidermal necrolysis Published in Cutis
- Extensive EM with an unusual delineated presentation: A case report Submitted for publication
- Novel Use of a Pressure Bandage for Assistance During Surgery - Cosmetic Dermatology April 2009 Volume 22 No. 4
MEDIA/ARTICLES
Optimal Aging - "Vitamin D and the Sun" Author
Longboat Observer "What's up Doc?" Contributor
Siesta Key Observer "Sunscreen Use and Misuse" Author
Blab TV Channel 21 - "Doctors in Our Community"
RESEARCH
Co-investigator in multi-center study to determine the efficacy and
tolerability of Finasteride(Propecia) 1mg on hair loss in men aged 41 to
60 with androgenetic alopecia
Investigation of the efficacy of the oral antimicrobial, Linezolid against
VRE and MRSA-soft tissue infections
HONORS AND AWARDS
Recipient of the National Institute of Health Summer Research Award
Consumer Research Council of America's "Guide to America's Top
Physicians" 2003,2004,2005,2006,2007,2008
Castle Connolly's "America's Cosmetic Doctors" 1st and 2nd editions
Continuing Medical Education award from AAD and AMA
National Register's, Strathmore's and United's Who's Who Registry
National Congressional Committee's Physician Advisory
Board Physician of the Year and Chairman's Honor Roll
CURRENT AREAS OF INTEREST/GOALS
Laser resurfacing, Sclerotherapy, Chemical peels, Collagen/Restylane,
Botox, Skin Cancer