Medical and Cosmetic Services
Medical and Cosmetic Services
Dr. O'Donoghue offers cosmetic and therapeutic peels, lasers for the treatment of wrinkles, scars, 'liver' spots and blood vessels. The physician also uses Restylane®, Juvederm®, Radiesse® and BOTOX® Cosmetic.
Of course, routine skin examination and skin cancer treatment are a daily activity.
Dr. O'Donoghue exercises skill and discretion along with sound judgment. Our objective is to achieve the best result for each individual.
Schedule a consultation so Dr. O'Donoghue can address your individual needs and recommend the procedure that is best suited for you.
We perform a wide variety of procedures dedicated to improving the appearance of the skin, hair, and nails as well as specialize in skin cancer screening treatment, and other diseases of the skin.
Dr, O'Donoghue offers Mohs surgery for the treatment of Skin Cancer. Mohs surgery offers the highest chance for complete removal of the cancer while sparing the normal tissue and leaving the smallest possible scar.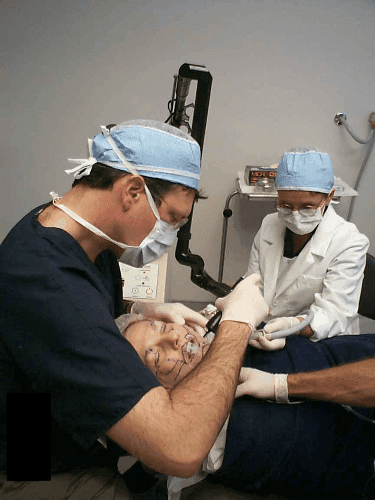 Cosmetic Services include:
Wrinkle Fillers
Pulsed Light Laser
Botox
Dermal Fillers
Photorejuvenation
Glycolic Peel
Antiblemish Facial
Medical Facial
Laser Hair Removal
Sun Spot Removal
Skin Tightening
Razor Bump Facial
Skin Biopsy
Ear Lobe Repair
Mole Removal
Wart Removal
Medical Services Include:
Mohs Surgery
Skin Cancer screening
Eczema /Atopic Dermatitis
Acne Keloidalis
Ringworm
Intertrigo
Skin Allergy Testing
Split Earlobes
Nail Fungus
Nail Disorders
Athlete's Foot
Psoriasis
Contact Dermatitis
Acne
Boils/Carbucles/cysts
Hyperpigmentation
Vitiligo
Razor Bumps
Rosacea
Excessive sweating
Tinea Versicolor
Cold Sores
Actinic Keratoses
Hairloss
Scalp Seborrhea
Moles
Skin Cancer Evaluation
Skin Cancer Surgery
Skin System Microdermabrasion
Aim: Instant rejuvenated texture and lift to tired skin right through to a more in-depth treatment for lines, wrinkles, acne scarring and pigmentation problems.
Who's it suitable for? All skin types. The face, body and hands can be treated.
What happens? The skin is cleansed with a cleansing gel (which dissolves excess sebum and removes makeup), and dried before the microdermabrasion begins (which is essentially a thorough exfoliation of the skin). A flow of crystals is aimed at the surface — the speed at which they hit the skin, along with their abrasive nature removes the dead cells.
Used crystals and dead skin cells (yuck!) are simultaneously sucked up through the apparatus and discarded.
"This vacuum action also gives a lifting effect to the skin and simulates the blood supply on the skin's surface, helping promote new collagen and elastin formation," explains Dr. O'Donoghue.
If you're after just a "flash" of microdermabrasion, the crystals stop here. If you want to target certain skincare concerns (eg. pigmentation, scarring, etc), the treatment continues, focusing on the problematic areas. A "mini lift" mask (with active ingredients wheat amino acids, algae gel and diatomaceous earth wheat proteins) is applied which claims to firm, soothe and soften the skin.
After 15 to 25 minutes it's removed and a brightening complex (with ingredients titanium dioxide, Arbutin, cucumber extract and zinc) and skin-repair serum (containing vitamin E, shea oil silk proteins and oat proteins) is applied and a skin revitalising tonic is misted over your face.
Recommended number of treatments? This depends on the individual, but as a guide, six to 10 weekly treatments, then monthly top up treatments.
Cost: $150 per treatment or 10 treatments for $1500, which includes $120 worth of products.
The bottom line: "After just one treatment, I noticed an immediate reduction in blackheads and my skin felt super-smooth. It wasn't red or blotchy as I'd expected and continued to improve over the next couple of days. Since starting treatments I've definitely had less breakouts and friends have described my skin as 'glowing'." -from a satisfied and happy patient
Introducing Cutera xeo® Laser + Light-Based Platform!
From corrective procedures to maintenance care, the completely customizable, multi-application Cutera xeo laser + light-based system can treat the broadest range of nonsurgical aesthetic concerns including:
Skin Revitalization & Resurfacing
Vascular Lesions
Rosacea
Pigmented Lesions
Acne Scars
Photodamage
Sunspots
Age Spots
Freckles
Hair Removal
Cutera xeo can minimize the signs of aging by reducing the appearance of fine lines and wrinkles, as well as age spots, and treating superficial skin imperfections by combining heat and ablation.

Laser360 Skin Resurfacing
Laser Skin Resurfacing& Rejuvenation. 3 Technologies+60 Days = A complete skin rejuvenation
Rejuvenate your skin with Laser360™. It's an exciting new aesthetic laser treatment that combines three revolutionary technologies to deliver softer, younger-looking skin in just 60 days.
The Laser360 skin resurfacing and rejuvenation treatment reveals brighter, younger and healthier-looking skin, from the inside out. It treats fine lines, wrinkles and discolorations from deep within the skin to give you a lasting new, revitalized look.
Is Laser360 skin resurfacing right for me?
If you're not ready for a facelift, but you're no longer satisfied with the results of topical creams and lotions, Laser360 skin resurfacing is for you.
Laser360 complete skin rejuvenation will improve your skin's color, texture and tone. Your doctor will combine the three different technologies into a treatment plan that is customized exclusively for you.
Schedule your consultation today with Dr.O'Donoghue at (941) 926-7546
MiXto SX® Fractional C02 Laser
The MiXto SX® Fractional C02 Laser combines the effectiveness of Carbon Dioxide lasers with an innovative "quadrant" fractional technology.
One 30 minute treatment with the MiXto SX® Fractional C02 Laser will accomplish more than 3 treatments with traditional CO2 resurfacing lasers. Treatments with this laser do not require general anesthesia and patients experience less discomfort, less downtime, and no harsh side effects.
The many benefits of the MiXto SX® Fractional C02 Laser include: immediate shrinkage of damaged skin, softening of fine lines and wrinkles, removal of age and sun spots, new collagen production for up to one year following treatment, and the cost is significantly less than traditional CO2 resurfacing!
What is MiXto SX Micro Fractional C02?
C02 is a carbon Dioxide laser that has been used for more than 25 years in the Aesthetic industry for treatment of conditions such as fine and deep wrinkles, scars of various origin, uneven pigmentation and dilated pores. When the C02 beam of light comes in contact with the epidermis it heats and vaporizes the skin tissue, instantly removing the superficial layers of the skin, scars and wrinkles while smoothing out the surface of the skin. The skin remodeling occurs with new skin and collagen growth. MiXto SX stands for the Mixture between C02 energy and fractional resurfacing, the SX stand for surgical because the Laser can also be used to make a very clean incision without bleeding.
How does it work?
The MiXto SX gives the Physician more control to regulate the depth of penetration and the amount of heat delivered by the beam. The high speed scanner, driven by a patented pending algorithm divides the treatment area into four quadrants or "fractions" and skips the beam from quadrant to quadrant so that each strike is separated by the longest possible interval. This process is repeated until the entire area is treated. Dividing energy this way allows maximum time for thermal cooling of the tissue, less pain for the patient and faster recovery! Compared to traditional resurfacing of the past this is a big step in technology for the patient and the physician!
How long is recovery?
Most patients are ready to go back to work the next day, but it depends on the patient and their lifestyle. Typical downtime is 4-5 days.
When do you see the results?
Right away! When we are doing the procedure you can immediately see the skin contract and shrink. The patient will really see the benefits by the time the skin is completely peeled and will continue to see results for up to six months with new collagen regeneration that "plumps" up the skin.
How many treatments are needed?
In most cases only one, but for deeper wrinkles and acne scars two or more treatments.
Is the treatment expensive?
The new technology has actually brought the price down due without the compromising the results.
Laser360 Skin Resurfacing
3 Technologies + 60 Days = Complete Skin Rejuvenation
Laser360 is the ultimate combination in laser and light therapy for face, hands and body. Multiple technologies can be combined during a single session or spread out over 60 days to deliver softer, younger-looking skin.
Laser360 treats fine lines, wrinkles and discolorations from deep within the skin to give you a lasting, revitalized look from the inside out.
Is Laser360 skin resurfacing right for me?
If you're not ready for a facelift, but you're no longer satisfied with the results of topical creams and lotions, Laser360 skin resurfacing is for you.
Laser360 Complete Skin Rejuvenation will improve your skin's color, texture and tone. The 3 technologies are combined into one treatment plan that is customized for you.
Laser Tattoo Removal
The Q-Switched Nd:YAG Handpiece, powered by the very versatile HarmonyXL Laser System breaks down tattoo ink and natural pigmentation (melanin) into much smaller particles that can be easily removed by the body's natural filtering system.
With two discrete wavelengths, Q-Switched Nd:YAG Handpiece treats a broad range of tattoo colors, including:
• Dark colors like black, blue and green with 1064-nm wavelength
• Brighter colors like red, orange and yellow with 532-nm wavelength
Tattoo removal typically requires a minimum of six to eight treatments, spaced approximately four to eight weeks apart.
Pixel Perfect™ for Scars and Stretchmarks
If you're concerned about unsightly acne scars or stretch marks, the Pixel CO2 Fractional Laser Solution may be the answer you've been looking for.
The Pixel Laser works by creating thousands of microscopic perforations that allow the top layer of your skin to heal from the edges of these tiny holes. This process significantly improves the appearance of scars, and stimulates collagen production for tighter skin.