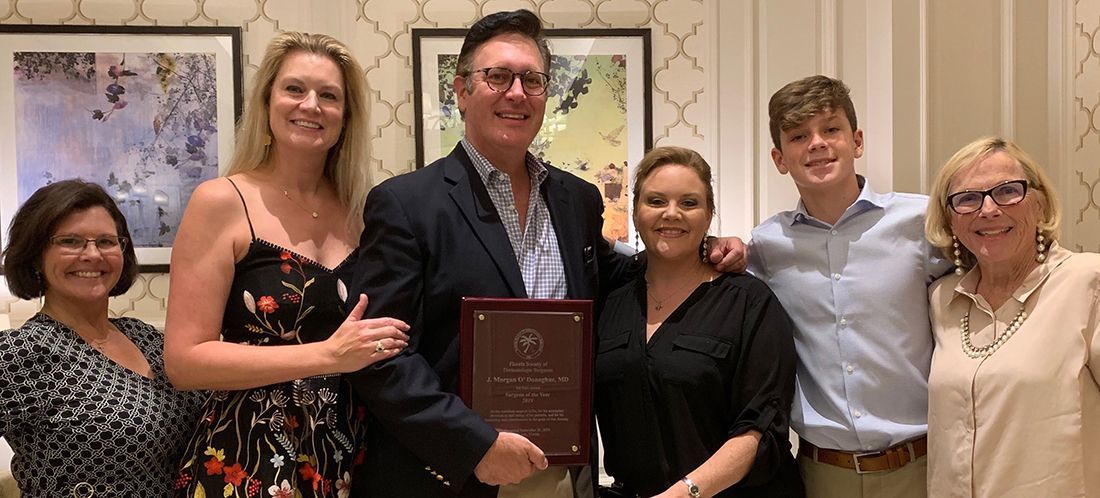 Becky Clark, Admin Assistant, Alison O'Donoghue, Barbara Richardson, Practice Manager, Kevin O'Donoghue, Nancy O'Donoghue
Click here to read the press release
SARASOTA, Florida (October 15, 2019) – In a ceremony held on Saturday, September 28, during the 38th Annual Meeting of the Florida Society of Dermatologic Surgeons (FSDS) at The Ritz-Carlton Orlando, Grande Lakes, Dr. J Morgan O'Donoghue of O'Donoghue Dermatology was named 2019 Surgeon of the Year by the FSDS.
This award recognizes his outstanding surgical skills, commitment to the wellbeing of his patients, and leadership within the Society that he presided over in 2016.
"It's a great honor to be recognized as 2019 Surgeon of the Year by my peers within an organization devoted to raising the bar for dermatologic surgeons across the state." said Dr. O'Donoghue.