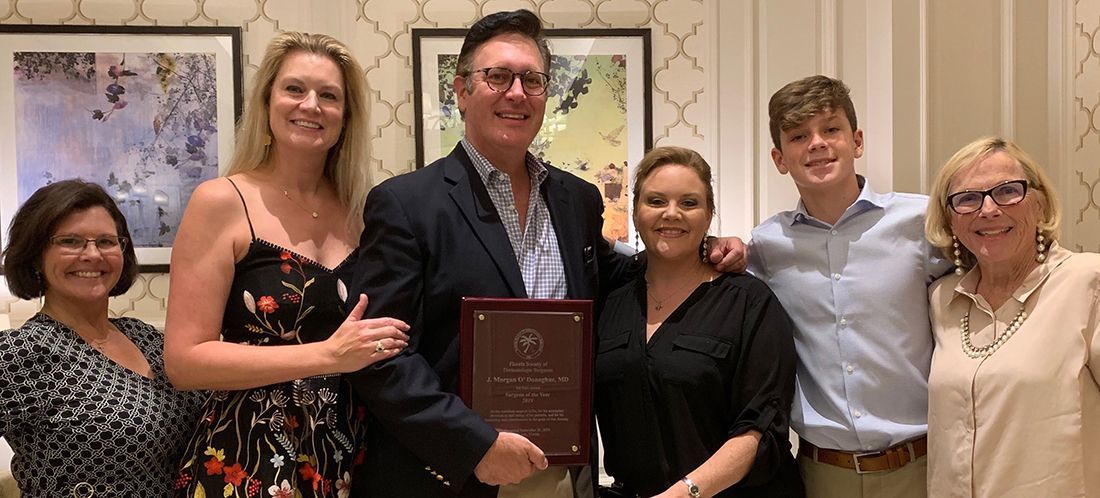 Becky Clark, Admin Assistant, Alison O'Donoghue, Barbara Richardson, Practice Manager, Kevin O'Donoghue, Nancy O'Donoghue
Click here to read the press release
SARASOTA, Florida (October 15, 2019) – In a ceremony held on Saturday, September 28, during the 38th Annual Meeting of the Florida Society of Dermatologic Surgeons (FSDS) at The Ritz-Carlton Orlando, Grande Lakes, Dr. J Morgan O'Donoghue of O'Donoghue Dermatology was named 2019 Surgeon of the Year by the FSDS.
This award recognizes his outstanding surgical skills, commitment to the wellbeing of his patients, and leadership within the Society that he presided over in 2016.
"It's a great honor to be recognized as 2019 Surgeon of the Year by my peers within an organization devoted to raising the bar for dermatologic surgeons across the state." said Dr. O'Donoghue.
About Dr. O'Donoghue
Dr. O'Donoghue is a graduate of the Georgetown University School of Medicine in Washington D.C. He completed his internship in Internal Medicine at Tulane University in New Orleans and went on to do his residency in Dermatology and Cutaneous Surgery at Washington Hospital Center in Washington, D.C.
He is certified by the American Board of Dermatology, he's a fellow of the American Academy of Dermatology, the American Society for Dermatologic Surgery, and past president, board member and fellow of the Florida Society of Dermatologic Surgeons. He is also a member of the American Society for Mohs Surgery, the Sarasota County Medical Society, and the American Academy of Dermatology.
Dr. O'Donoghue is Section Chief of Dermatology at the Sarasota Memorial Hospital Internal Medicine Residency Program. He's had numerous scientific articles published in national peer-reviewed dermatology journals, and he regularly delivers presentations and lectures on the latest treatments for medical and cosmetic dermatological conditions. He is currently working on a book about skin cancer prevention. His many accolades include "Best Dermatologist in Sarasota", "America's Top Dermatologist", "Most Compassionate Doctor Award", "Patients' Choice Award", and he has been recognized by the Consumers' Research Council of America as one of "America's Top Physicians" every year since 2003.
About O'Donoghue Dermatology
Serving the Sarasota area since 2000, O'Donoghue Dermatology (www.dermatologyexperts.com) specializes in the treatment of skin cancer and other diseases of the skin, hair and nails as well as cosmetic services including laser skin resurfacing & rejuvenation, Intense Pulse Light (IPL) laser treatments, chemical peels, injectable wrinkle fillers, and XEOMIN®/BOTOX® Cosmetic.