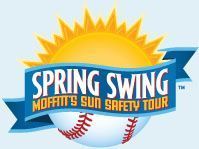 Spring Swing – Moffitt's Sun Safety Tour – is a partnership between the Tampa Bay Rays and Moffitt Cancer Center dedicated to increasing skin cancer awareness, prevention and detection.
Moffitt Cancer Center's Mole Patrol® will travel with the Rays during the month of March to provide free skin cancer screenings at select Spring Training games in search of the early signs of skin cancer, promoting sun safety and skin cancer education.
The 2008 campaign kicked off in St. Petersburg on March 1 at Progress Energy Park, home of Al Lang Field. Sam Donaldson (pictured, right), veteran ABC newsman, melanoma survivor and chairman of Moffitt's Board of Advisors, threw out the first pitch.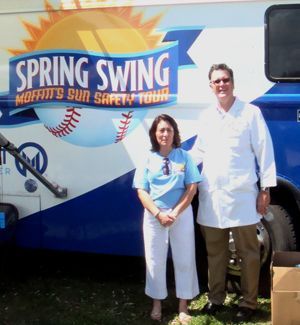 Click here for more information about the 2009 Spring Swing schedule.
Several of Moffitt's Affiliate Hospitals will be assisting with the on-site screenings and education initiatives, including:

o Broward Health
o Martin Memorial Health Systems
o Sarasota Memorial Health Care System
o Riverchase Dermatology
Melanoma Facts
• Florida has the second-most reported cases of melanoma nationwide.
• Skin cancer is one of the most common and fastest growing cancers in the United States.
• Melanoma is the deadliest form of skin cancer.
• It is estimated that nearly 1 million new cases of skin cancer were diagnosed in 2007, approximately 60,000 of those cases were a form of melanoma.
• Skin cancer can show up anywhere on the body.
• Skin cancer affects all races, ages and genders.
Source: American Cancer Society, Cancer Facts & Figures 2007

Sun Safety Tips
• Avoid unprotected exposure when the sun is at its strongest (from 10 a.m. to 4 p.m.). UV rays pass through clouds and water, so don't assume you're safe if it's not sunny or you're feeling comfortable in the cool water.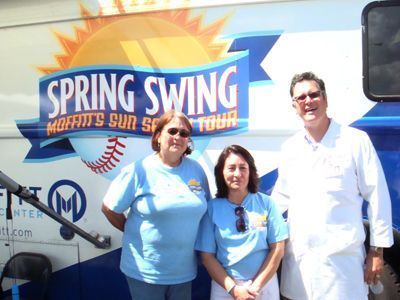 • Check the UV Index for your area before planning a day outside. This number between 1 and 10 is a measure of the amount of radiation reaching the Earth's surface. The higher the number, the greater the exposure. You can find the UV Index by visiting
www.epa.gov/sunwise/uvindex.html
and entering your ZIP code.
• Wear UV-blocking sunglasses. Ideally, glasses should have 99 percent to 100 percent UV absorption. Darker lenses are not necessarily better because the protection comes from an invisible chemical applied to the lenses. Look for an ANSI (American National Standards Institute) label.
• Use sunscreen with an SPF of 15 or higher that protects against UVA and UVB radiation. Apply generously and properly – 30 minutes before sun exposure. For most sunscreens, reapply every two hours or immediately after swimming, toweling dry or perspiring. Guard against loss of your sunscreen's effectiveness from heat by keeping it in your cooler.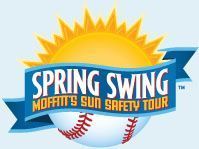 • Stay in the shade as much as possible or cover up with protective clothing. Dark colors provide better protection than light colors. Choose tightly woven fabric and select a hat with a broad brim to protect your neck, ears, eyes, forehead, nose and scalp.
• Regular skin examinations are key. This includes monthly self exams as well as an annual skin examination by a health care practitioner to identify any changes in your skin or the development of anything new. Click here to see images and information on what malignant melanoma can look like.
Source: American Cancer Society
The Mole Patrol® is on the move! The screeners are preparing for a very busy month in March.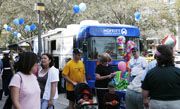 Partnering with the Tampa Bay Rays and local affiliates, the Moffitt Mole Patrol® is swinging into spring with the Spring Swing, a series of screening events at Major League Baseball Spring Training games throughout Florida.
The series begins with the Rays vs. Yankees game in Tampa. It is expected that dozens of people will be screened at each event while staff members provide sun safety educational materials and sunscreen samples to participants.
About Mole Patrol
The Mole Patrol® skin cancer screening program travels to venues around Florida to offer free skin cancer screenings and cancer education to the public. In its 12 years of operation, the Mole Patrol® has screened thousands of Floridians, identifying hundreds of suspicious skin lesions that have resulted in the diagnosis of melanoma, basal and squamous cell cancers.
The Mole Patrol® frequently works in tandem with Moffitt's affiliate institutions to provide oncologists and dermatologists who specialize in skin cancer to conduct the screenings.
The Mole Patrol® is comprised of medical doctors who specialize in skin cancer and/or dermatology, as well as registered nurses and support staff. Some physicians and nurses are based at Moffitt, while others come from its affiliate institutions and practices in the community.
Screenings are provided free of charge to the public and are conducted in an area that allows for some measure of privacy when needed (two rooms are available on the screening bus and portable privacy screens are often used).
If suspicious lesions are found, patients leave the screening area with specific follow-up instructions that should be taken to their primary physician. In addition, participants receive educational information about skin cancer prevention and early detection and often receive free sunscreen samples and other related giveaways.